FOR IMMEDIATE RELEASE
Megan Tobias, 303-832-2700 ext. 214
Carole Walker, Coloradans Against Auto Theft Chair, 303-790-0216
Twitter: @StopAutoTheftCO
Facebook: @ColoradansAgainstAutoTheft

If You Knew Where Auto Theft Ended, Would You Start Locking Your Car?
An Average of 347 Vehicles are Stolen in Colorado Each Week. Coloradans Against Auto Theft's New Campaign Reminds Drivers of the Violent Crimes Fueled by Auto Theft
Denver, Colo. (July 24, 2017)
— In observance of National Auto Theft Prevention Month, Coloradans Against Auto Theft (CAAT) is launching a statewide public awareness campaign, reminding drivers about the importance of not making themselves an easy target for car thieves. The "Lockdown Your Car" campaign informs the public about the domino effect that often occurs when a car is left unlocked. Not only can this result in car theft, but also fuels other crimes such as armed robbery, home invasion and drug-related offenses. 97 percent of car thieves charged with auto theft are also charged with other crimes.
"Colorado's crime rate is on the rise and that includes a significant increase in auto theft, which often is involved in other crimes," says Colonel Scott Hernandez, Chief of the Colorado State Patrol. "Trends show auto theft rates spike from July through December. That's why statewide law enforcement agencies are joining forces with our communities this summer to spread important safety messages and help drivers recognize how commonsense measures such as locking their cars can help reduce violence across the state."
According to the Auto Theft Intelligence Coordination Center (ATICC), 18,047 vehicles were stolen statewide in Colorado in 2016, up more than 20 percent over 2015 and more than 55 percent over 2014. ATICC's 2016 annual report indicates that Friday and Monday showed the highest levels of auto theft, while Sunday showed the lowest. The top two locations for vehicles to be stolen from were residences and parking lots, including garages. According to the National Insurance Crime Bureau's (NICB) latest Hot Spots report, Pueblo, Colorado took the number two spot for vehicle theft in the country in 2016.

Top Five Stolen Vehicles in Colorado in 2016 (ATICC):
Honda Accord
Honda Civic
Dodge Ram Pickup
Ford F-250
Ford F-150

Top Five Colorado Cities for Auto Theft in 2016 (ATICC):
Denver
Colorado Springs
Aurora
Pueblo
Lakewood

Top Ten Stolen Vehicles in Colorado by Theft Area* (ATICC):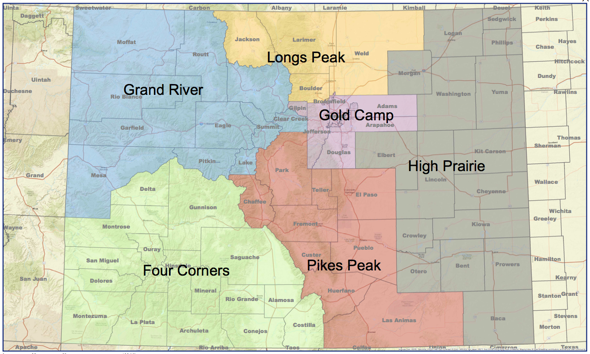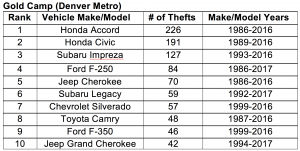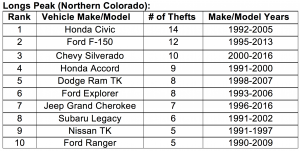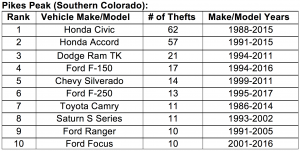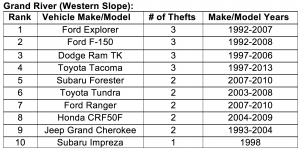 *This information contains vehicle thefts in Colorado for the date parameters: April 1-June 30, 2017

Lockdown Your Car Campaign Highlights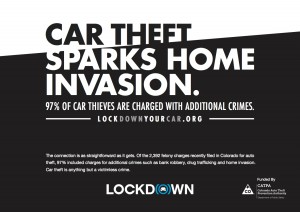 The "Lockdown Your Car" campaign, supported by grant funding through the Colorado Auto Theft Prevention Authority (CATPA), features a radio and TV spot and digital ads that ask, "If you knew where auto theft ended, would you start locking your car?" The campaign reminds drivers that they might not be the only victim if their car gets stolen, and the easiest way to prevent this domino effect is to simply hit the lock button. View the "Lockdown Your Car" TV spot here.
"Most people think, 'it will never happen to me,' but data shows that 48 percent of Coloradans know someone who has had their car stolen," says Carole Walker, Executive Director of the Rocky Mountain Insurance Information Association and CAAT chair. "Even scarier, 97 percent of car thieves in Colorado commit additional violent crimes. We took a more serious approach with our ads this year to illustrate that auto theft is not a victimless crime and impacts the community beyond the stolen vehicle itself."
For more information, visit www.lockdownyourcar.org and the "Lockdown Your Car" Facebook and Twitter pages.

Auto Theft Victim Donation Event – 7/29/17
To help mark National Auto Theft Prevention Month, CATPA's Metropolitan Auto Theft Force, Arapahoe Kia, and LoJack are partnering to donate LoJack Stolen Vehicle Recovery Systems to past victims of auto theft. The donation event is being held at 10 AM Saturday, July 29 at Arapahoe Kia to help promote awareness of a layered approach in combatting auto theft.
National Night Out
National Night Out (NNO) is an annual community-building campaign that promotes police-community partnerships and neighborhood camaraderie to make neighborhoods safer, more caring places to live. On the evening of Tuesday, August 1, citizens are encouraged to attend events in their neighborhoods, while leaving their porch lights on as a national symbol against crime. CAAT's coalition partners will be hosting local events across Colorado, featuring safety and crime prevention information.
Snapshot of National Night Out Activities
Broomfield Police Department
The Broomfield Police Department will host a citywide National Night Out Picnic in the Park from 5-8:30 PM on Tuesday, August 1 at Broomfield County Commons Park. Bring a picnic supper for your family and enjoy demonstrations provided by various City and County of Broomfield Departments; Touch-a-Truck, Police K-9, Drunk Buster – Pedal Karts, North Metro Fire Rescue Extrication and Live Fire Demonstration. For further information, contact Joleen Reefe at 720-887-2084.
Castle Rock Police Department
The Castle Rock Police Department will host their annual National Night Out festivities from 5-8 PM on Tuesday, August 1. The event will be held at their downtown pavilion, located on Perry Street at the intersection of Fourth Street in Castle Rock, CO.
City of Golden
The City of Golden will host a National Night Out event from 5-8 PM on Tuesday, August 1 in Parfet Park in Golden, CO. More details can be found on the City of Golden's website.
Grand Junction Police Department
The Grand Junction Police Department will participate in 10-15 NNO events in various neighborhoods in Grand Junction, CO.
Jefferson Park
In conjunction with National Night Out and Denver Days, Urban Vet Care and Jefferson Park United Neighbors will host their Dog Days of Summer / Community Potluck at 5:30 PM on Tuesday, August 8 at the Jefferson Park Pavilion. The event will help neighbors get to know each other and get involved with their community.
Lakewood Police Department
More than 40 NNO events will take place in Lakewood, CO on Tuesday, August 1. The Lakewood Police Department will send one or two uniformed officers, including the chief and command staff, to each event.
Visit National Night Out's website or Facebook page for general NNO information.

How Can You Avoid Auto Theft?
Never leave your car running unattended.
Lock your doors every single time.
Always park in well-lit areas.
Don't keep a spare set of keys in the car.
Put gifts and all valuables in the trunk or keep hidden from view.
Buy comprehensive insurance that covers stolen vehicles.
Report suspicious activity to a non-emergency police line.
Use our Hot Spot map to see if there have been auto thefts where you live or work.
CAAT Coalition Partners
Colorado auto theft task forces, made up of regional law enforcement agencies, Colorado State Patrol and other motor vehicle safety and insurance partners, are a part of the CAAT coalition to decrease auto theft during this peak auto theft season.
CATPA Metropolitan Auto Theft Team (CMATT)
Beat Auto Theft Through Law Enforcement (BATTLE)
Colorado Attorney General's Auto Theft Prosecution Initiative
Colorado Auto Theft Investigators (CATI)
Colorado Auto Theft Intelligence Coordination Center (ATICC)
About Coloradans Against Auto Theft (CAAT):
CAAT is a statewide auto theft prevention initiative to raise awareness about the problem and educate the public on what they can do to reduce their chances of falling victim to auto theft. CAAT is a coalition of law enforcement agencies, the Colorado State Patrol, the Colorado Auto Theft Investigators (CATI), insurance partners, LoJack and AAA Colorado. CAAT and the state auto theft task force efforts are funded in part by the Colorado Auto Theft Prevention Authority (CATPA).
About Colorado Auto Theft Prevention Authority (CATPA):
Colorado Auto Theft Prevention Authority (CATPA) is a state authority that was established by Colorado statute in 2003 to help reduce Colorado's serious auto theft problem through the award of grant funds. The Colorado law helps ensure that auto theft prevention efforts are targeted. These efforts have resulted in an increase in stolen vehicle recoveries and criminal prosecutions of hardcore and major organized criminal groups, as well as related crimes.
###