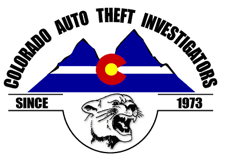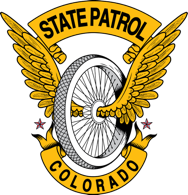 FOR IMMEDIATE RELEASE
 
Annie Coghill, 303-547-6692
Carole Walker, Coloradans Against Auto Theft Chair, 303-790-0216
Twitter: @StopAutoTheftCO
Facebook: @ColoradansAgainstAutoTheft
Coloradans Against Auto Theft, Law Enforcement & Community Partners Join Forces for Summer Auto Theft Prevention Campaign Statewide Campaign Reminds Coloradans of Heightened Crime Associated with Auto Theft
Denver, Colo. (July 10, 2018) — Coloradans Against Auto Theft (CAAT), along with law enforcement and community partners, today launched their annual statewide public awareness campaign aimed at educating Coloradans about the domino effect that can occur when a car is left unlocked. The "Lockdown Your Car" campaign, which coincides with National Auto Theft Prevention Month, pairs traditional advertising with community events to remind drivers not to make themselves an easy target for car thieves.
"Auto theft is not just a property crime, in fact 97 percent of adults charged with auto theft also commit additional crimes, making it a threat to the whole community," says Colonel Matthew Packard, Chief of the Colorado State Patrol. "It's imperative that we educate our communities about the risks associated with leaving their cars unlocked. We are pleased to once again join CAAT and law enforcement agencies across the state for this summer's Lockdown campaign, and continued auto theft prevention efforts throughout the year."
The Auto Theft Intelligence Coordination Center (ATICC) reports that 19,488 vehicles were stolen in Colorado in 2017 – the equivalent of 375 stolen vehicles per week, or 53 per day. Auto theft rates in 2017 were up eight percent over 2016, and 31 percent over 2015 when 14,859 vehicles were stolen. ATICC's 2017 annual report indicates that Friday and Monday showed the highest volume of auto theft, while Sunday showed the lowest. What's more, data indicates that there were 1,240 auto thefts in the month of July 2017, up 47% from the month of July in 2014. View the ATTIC 2017 annual report here.
Top 10 Stolen Vehicles in Colorado in 2017 (ATICC):
Honda Civic
Honda Accord
Subaru Impreza
Ford F-250
Chevrolet Silverado
Jeep Cherokee
Ford F-350
Ford F-150
Dodge Ram Pickup
Subaru Legacy
Top Five Colorado Cities for Auto Theft in 2017 (ATICC):
Denver
Colorado Springs
Aurora
Pueblo
Lakewood
 
Campaign Highlights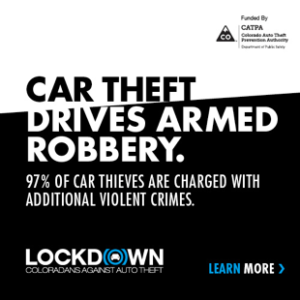 .   


The "Lockdown Your Car" campaign, supported by grant funding through the Colorado Auto Theft Prevention Authority (CATPA), features TV spots, billboards, bus, print, digital radio and digital video advertisements and social media posts that remind viewers of the heightened crime associated with auto theft. The ads offer various examples of how car theft can lead to additional crimes in the community, and ask, "If you knew where auto theft ended, would you start locking your car?" View the "Lockdown Your Car" TV spot here.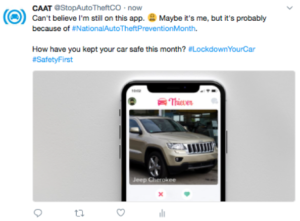 What's more, the campaign features "Thiever," a fake mobile app for car thieves to scope out their next steal. Modeled after popular dating apps, Thiever is comprised of profiles of the top stolen cars in Colorado, encouraging thieves to "swipe right," or steal the car. The profiles range from static images to animations that show a gloved thief swiping through the posts. They include messages that imitate dating profiles and describe easy-to-steal cars, such as, "Sun's out and my windows are down. What more could you want?" Each profile will be shared on CAAT's Facebook and Twitter pages with an accompanying auto theft fact.
"With no seasonality to auto theft, this summer's Lockdown campaign is part of our year-round effort to spread awareness about what car owners can do to prevent their own cars from being stolen and used to commit other crimes," says Carole Walker, Executive Director of the Rocky Mountain Insurance Information Association and CAAT chair. "In addition to traditional advertising, a big focus of this year's campaign is to participate in more community events to engage with and educate Coloradans on a more personal level."
 
National Night Out
National Night Out (NNO) is an annual community-building campaign that promotes police-community partnerships and neighborhood camaraderie to make neighborhoods safer, more caring places to live. On the evening of Tuesday, August 7, CAAT's coalition partners will be hosting local NNO events across Colorado, featuring safety and crime prevention information. Citizens are encouraged to attend events in their neighborhoods, while leaving their porch lights on as a national symbol against crime.
 
Snapshot of National Night Out Activities:
Broomfield Police Department
The Broomfield Police Department will discuss auto theft prevention and awareness during the City of Broomfield's National Night event from 5-8:30 PM on Tuesday, August 7 at the Broomfield County Commons Park, located at 132 Sheridan Boulevard. Annually, the event attracts more than 2,000 attendees and is one of the largest National Night Out events hosted by a City and County in the Denver metro area.
City of Wheat Ridge
The City of Wheat Ridge will host their annual National Night Out event on the evening of Tuesday, August 7 at Hayward Park, located at West 29th Avenue and Wadsworth Boulevard. The event will feature fun for kids and families, including vehicle tours, a meet and greet with officers, and crime prevention and safety information. They will also share auto theft prevention tips on Facebook, Twitter and NextDoor over the course of the month.
Grand Junction Police Department
The Grand Junction Police Department will be attending neighborhoods registered for National Night Out events. Officers will speak to safety and crime-related issues in the community, as well as offer tips on prevention.
Visit NNO's website or Facebook page for general NNO information.
Colorado State Fair
To demonstrate how auto theft is a tool to commit additional crimes, CAAT will bring their "Kilo Car" to the Colorado State Fair August 24-September 3. The Kilo Car is a full-sized vehicle frame constructed of materials that look to be different types of drugs, representing the shocking truth that auto theft is a gateway crime and a safety concern for the whole community. More details about the Kilo Car's exhibit at the Colorado State Fair will be announced in August.
 
Auto Theft Prevention Tips
Never leave your car running unattended
Lock your doors every single time
Always park in well-lit areas
Don't keep a spare set of keys in the car
Put gifts and all valuables in the trunk hidden from view
Buy comprehensive insurance that covers stolen vehicles
Report suspicious activities to a non-emergency police line
CAAT Coalition Partners
Colorado auto theft task forces, made up of regional law enforcement agencies, Colorado State Patrol and other motor vehicle safety and insurance partners, are a part of CAAT's coalition to decrease auto theft during this peak season.
CATPA Metropolitan Auto Theft Team (CMATT)
Beat Auto Theft Through Law Enforcement (BATTLE)
Colorado Attorney General's Auto Theft Prosecution Initiative
Colorado Auto Theft Investigators (CATI)
Colorado Auto Theft Intelligence Coordination Center (ATICC)
About Coloradans Against Auto Theft (CAAT):
CAAT is a statewide auto theft prevention initiative to raise awareness about the problem and educate the public on what they can do to reduce their chances of falling victim to auto theft. CAAT is part of a coalition of law enforcement agencies, the Colorado State Patrol, the Colorado Auto Theft Investigators (CATI), insurance partners, LoJack and AAA Colorado. CAAT and the state auto theft task force efforts are funded in part by the Colorado Auto Theft Prevention Authority (CATPA).
 
About Colorado Auto Theft Prevention Authority (CATPA):
CATPA is a state authority that was established by Colorado statute in 2003 to help reduce Colorado's serious auto theft problem through the award of grant funds. The Colorado law helps ensure that auto theft prevention efforts are targeted. These efforts have resulted in an increase in stolen vehicle recoveries and criminal prosecutions of major organized criminal groups, as well as related crimes.
###