CSP and CATPA Release 2022 Data
(COLORADO) – Vehicle theft has taken center stage in conversations for many Coloradoans this past year. With auto theft continuing to rise, the Colorado State Patrol and The Colorado Auto Theft Prevention Authority (CATPA) want to provide information and tools to help you protect your vehicle and help us lessen the rate of auto theft.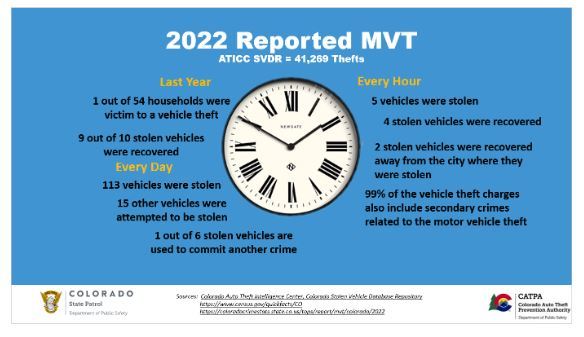 Preventing auto theft starts with the basics.
The best step you can take to reduce the likelihood of becoming a victim of auto theft is to lock your car and take your keys, every time. Failure to take this basic step is referred to as Owner Apathy, and according to National Insurance Crime Bureau's latest report, thefts involving the keys left in the vehicle are up by 20% over the last few years.
Beyond this first step, CATPA always recommends you park your vehicle in a garage or secure parking area, if available to you. If your garage is too full for your vehicle, it's time to clean it out and benefit from a secure place to store your vehicle. A locked car, in a secure garage drastically reduces your chances of motor vehicle theft.
When you don't have access to secured parking whether at home, work or anywhere else, CATPA recommends taking extra security precautions to secure your vehicle. Devices such as a steering wheel lock, an aftermarket alarm system, or advanced measures like a vehicle kill switch or immobilizer are possible options. These features are particularly recommended for any vehicle over five years old, and especially for those models found on the Top Ten Most Stolen Cars list.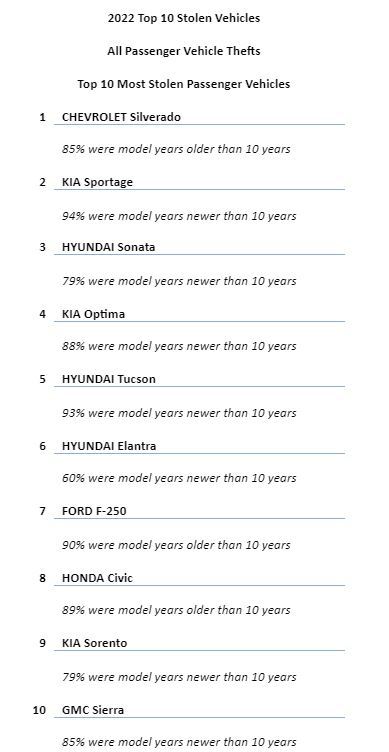 If you are fortunate to have secure parking and live in a low crime area, auto theft should still be a concern for you! The victim of vehicle theft is not solely the owner.  In nearly all cases, stolen vehicles are used as the means to commit other serious and violent crimes including drug use or sales, other thefts, armed robberies, burglaries, assaults and homicides.
In addition to crimes and rising insurance rates across Colorado, auto thieves add to the dangerous driving landscape by notoriously driving recklessly. While committing this crime they display willful disregard to other motorists, pedestrians and laws, speeding excessively, running traffic lights, cutting other vehicles off, passing on the shoulders, and attempting to elude law enforcement.  In some instances, they crash causing injury to themselves and other uninvolved motorists.
By making your vehicle a more challenging target for theft, you can help us reduce this crime in Colorado. Please take your keys and always lock your vehicle to bring these numbers down and make Colorado a safer place. Learn about additional ways to prevent auto theft at lockdownyourcar.org